Life can be challenging when you're living with hearing loss, and it's a reality that many seniors face – in fact, nearly half of those aged 75+ have some form of hearing loss. It's more than a nuisance; hearing loss can be dangerous and isolating, despite it being so common. It's no surprise, then, that many older adults with hearing loss opt to move into assisted living for better quality of life.
As an independent and assisted living community in Burbank, Evergreen understands the difficulties that come with hearing loss, and we strive to make the transition into our assisted living community as smooth as possible. Here are a few reasons to consider moving into a senior living community if you're an older adult with hearing loss.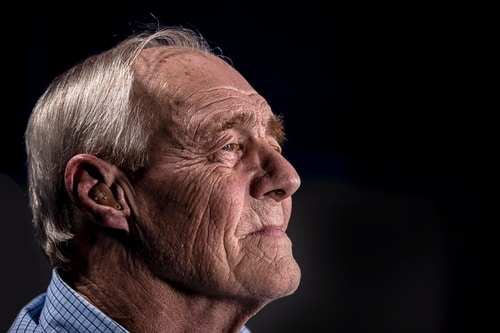 Safety
Aging brings with it many risks, but hearing loss even more so. Consider the danger of going out for a walk and not hearing a car approach, or not being woken up by a smoke alarm. Hearing loss is also a risk factor for increased falls. With that in mind, an assisted living community can be a much safer environment for an older adult with hearing loss, as it's designed to accommodate a variety of health needs.
A Remedy for Loneliness
Hearing loss can be incredibly isolating, especially when it happens later in life. It's a jarring change that can lead to feeling cut off from the world. Many seniors end up socially isolated, depressed, and lonely as a result of their hearing loss, and isolation is a serious health risk that is associated with poorer health. Moving to a senior living community with staff who are trained to assist with hearing loss can lead to more social opportunities and a more enriching social life.
A Supportive Environment
In an assisted living community, staff are trained and experienced on how to communicate with adults with hearing loss in a way that improves understanding and minimizes embarrassment. An assisted living community is designed to support seniors with needs such as hearing loss, which means staff are understanding and patient, resulting in a compassionate and warm environment.
Closing Thoughts
Hearing loss can have a profound effect not only on a senior's lifestyle and abilities, but also their self-esteem. While it's difficult to leave your home, moving into assisted living is worth considering if hearing loss is negatively affecting you or your loved one's happiness and quality of life; it often can be a much safer and more supportive environment.
Evergreen is a modern senior living community in the Los Angeles area. To learn more about our community, contact us today to schedule a tour.
References
https://www.nidcd.nih.gov/health/statistics/quick-statistics-hearing
https://www.hopkinsmedicine.org/news/media/releases/hearing_loss_linked_to_three_fold_risk_of_falling