The tiny house movement is often portrayed as one made up of hip young adults looking for an alternative to the starter home with a white picket fence. But as it grows in popularity, the tiny home trend has begun to pick up steam among a different demographic: those aged 55 and up.
As a senior living community with a strong focus on nurturing a sense of love and belonging, Evergreen understands the nuances that go into creating a healthy and happy home. In this article, we'll explore a few reasons why many people are opting for tiny homes in retirement.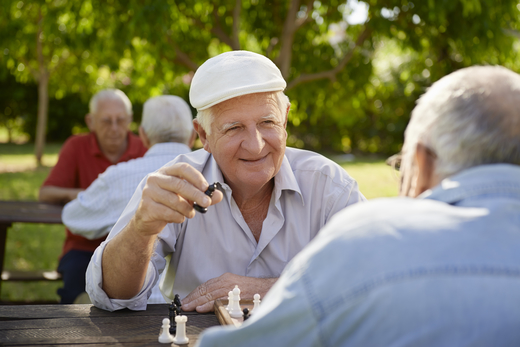 The Appeal of Tiny Homes
So why are so many older adults pursuing this minimalist lifestyle? There are many different reasons, but financial motivations are among the most common. Compare the median price of a U.S. home at $226,800 with the average tiny home, which costs less than $50,000. For many retirees, tiny house living allows them to live mortgage-free, with lower bills to boot.
Due to their compact size, tiny homes make customizations not only possible, but affordable. This is especially important for seniors with mobility issues; tiny homes traditionally maximize space by putting beds on lofts only accessible by ladder, and they usually lack the space to move around in a wheelchair. Many older tiny home buyers work with architects to develop plans with age-appropriate modifications.
For instance, a tiny home in Australia offers modifications such as non-slip flooring, accessible showers, handrails, and no trip hazards. These allow the home's resident, Merle, to have a higher quality of life and continue to live independently, yet safely, as she grows older. And as she points out, tiny homes also require less upkeep, meaning you can spend your time enjoying retirement rather than cleaning. Ultimately, a desire for simplicity drives many to tiny homes.
Closing Thoughts
Tiny homes are not a new phenomenon. After all, people have lived in RVs for decades, and with a maximum square footage of around 400 sq. ft., RVs certainly fit into the definition of tiny homes. But the tiny home movement involves making a conscious decision to live small, with the average tiny home coming in at only 200 sq. ft. Compared to the average new home in the U.S. at 2600+ sq. ft., it may not seem like much – but for many seniors, it's just right.
Evergreen is a modern and active senior living community in the greater Los Angeles area. To learn more about our community, please contact us today to request a brochure or to schedule a tour.
Links
https://www.youtube.com/watch?v=BlQ3yuUmBiw