Most people would agree that planning is the key to successful and happy aging, but retirement planning usually refers to finances more than anything else. And while finances are essential, being healthy is a crucial part of aging as well. Many older adults are focusing more on being active and healthy as they approach retirement, since being in good shape allows them to fully enjoy the fruits of their labor after leaving the workforce.
As a senior living community in Burbank that prioritizes health, happiness, and active aging, Evergreen believes in the importance of being active leading up to retirement. In this article, we'll discuss how older adults can set themselves up for success by getting fit before they retire.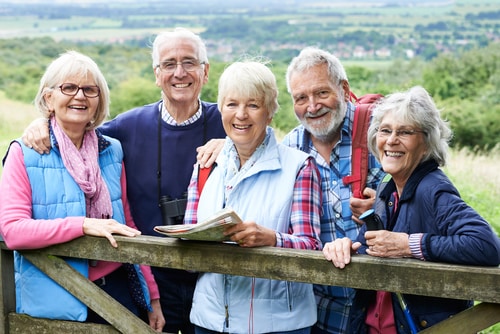 Finding the right gym
The most obvious way to start exercising is by visiting your local gym. But many people, especially older adults, find the environment of gyms to be intimidating. This can be compounded by fears of injury or feeling out of place in gyms that focus only on a younger clientele.
Fortunately, plenty of gyms are starting to include senior-friendly fitness classes as well as specialized personal trainers. There are even fitness centers out there that are tailored specifically to meet older adults' needs. These gyms can include everything from lower-resistance machines to quieter music and older staff.
Exploring active hobbies
If the gym isn't for you, don't worry – there are plenty of other options out there. While many people hold off on exploring new hobbies until after retirement, there's no reason to wait; why not try something new on the weekend? Many hobbies are active by nature, like cycling, hiking, rock climbing, and ballroom dancing. As a bonus, these things are much more fun, engaging, and social than traditional exercise.
Hobbies are also a great way to meet like-minded people and make new friends. Try exploring listings in your area on meetup.com or social media, like Facebook groups. Staying social during retirement is just as important as being active, which is why physically demanding hobbies can offer even more health benefits than simply visiting the gym.
Keeping positive
Making exercise a daily habit before you retire increases the chances of aging gracefully and in good health. Remember, it's never too late to start getting active, or to improve your fitness levels. Need inspiration? Just look at this group of people who became active and fit after age 50. Despite coming from all walks of life, they share one thing in common: a positive and optimistic attitude. Getting older can bring its share of challenges, but that doesn't mean it's impossible to get in shape.
Starting small is key to developing lasting habits. If you're new to exercise, you shouldn't jump right in to a triathlon; that's asking for disappointment, if not injury. Start taking regular daily walks, even if it's only on your lunch break at work, and build up your endurance. The satisfaction will create a sense of momentum and motivate you to keep going. Be sure to keep your goals SMART: Specific, Measurable, Attainable, Relevant, and Time-Bound.
Closing thoughts
As you can see, getting and staying in shape doesn't have to be daunting. Adopting an optimistic attitude, setting strong goals, building upon small changes, and choosing engaging activities are all key to getting fit at any age, and they build a strong foundation for an active and healthy retirement.
Evergreen is a modern and active senior living community in Burbank, California. To learn more about our beautiful community, please contact us today to request a brochure or to schedule a tour.
Links
https://www.rd.com/health/fitness/people-in-best-shape-of-their-lives-after-50/
https://www.acefitness.org/education-and-resources/lifestyle/blog/6763/smart-goal-setting-guide