One of the biggest decisions in life comes when you decide it's time to find an affordable assisted living community for your parents or yourself. There isn't an established definition for assisted living nationwide, so there are different levels of care that are provided by different communities that call themselves an assisted living facility. Some provide lighter care for residents while others go the extra mile and provide hospice or respite care. Another important consideration, besides the level of care, is the look and feel of the community. Some are more formal with a traditional look, and others have a more artistic side or are more home-like and with a warm ambiance.
Once you know which community is the right fit, there are several steps to be taken and many aspects to consider. The first of which is to decide what to bring to your new assisted living home and what to leave behind.
After all the time spent living in the same home, deciding on which things you will and won't need with you can be a difficult process. For those of you who are unsure what to pack or where to start, this checklist and guide can help ease the transition and make sure you have everything you need to be comfortable and feel at home.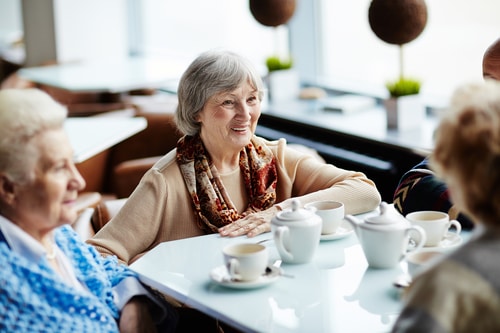 What to Focus On First?
Preparing to make the move to assisted living can be exciting but it can also be overwhelming; particularly when it comes to packing and downsizing your belongings. You might not know where to start and what items you will need on a daily basis. It is very important to keep in mind that moving into an assisted living community doesn't mean that you will stop using standard household items and essentials or that you won't need them.
On the other hand, it's important to keep in mind that you could be limited in terms of space and you might not be able to bring everything you want, but that doesn't mean that you shouldn't take anything. Instead, focus on the things you will need for everyday use. Feeling comfortable and at home is essential for making the transition into your new home as smooth as possible.
In many cases, the community can offer recommendations for what to bring and which rules need to be kept in mind while packing. For instance, the facility might recommend labeling clothing and in some cases might warn against bringing expensive jewelry.
Beds and Furniture
When it comes to "the moving of the furniture" moment, you and your loved ones need to think rationally and practically. Generally, people take their bed because it has a familiar mattress or they rent a comfortable bed from the residence. In many cases, a twin, double or full-sized mattress is recommended depending on the available space. Keep in mind to leave room around the bed to be able to move around safely. Along with a comfortable bed, you should have more than one set of sheets, pillows, and blankets.
Remember to take things with you like a small table and some type of small sitting arrangements like chairs, rocker, table, and shelves. If there's enough room you might also want to consider a nightstand, dresser, and drawers for storage, but these items need to be practical. Once you have the essentials, additional pieces of furniture could be brought from home as necessary.
Kitchen, Houseware and Bathroom Essentials
A very important aspect of what to bring are kitchen and houseware items. Things like a small fridge, a microwave, trash can, and coffeemaker are a must. Because meals are provided you only need a few sets of dishes, pots and pans, and glasses for everyday use. If you enjoy entertaining and socializing, bringing a nice serving dish could be useful as well. Some of the essential houseware items you will need are provided by the residence, so you should check with the facility before bringing them with you.
While most assisted living communities offer routine housekeeping you should consider packing several types of cleaners like surface wipes, soap, and detergents as well as towels and dust cloths for the bathroom and windows for any unexpected messes. In many communities, housekeeping is done weekly so you wouldn't need more than a couple of towels. A laundry basket to keep dirty clothes is also something you might want to consider.
Personal Items and Clothing
When it comes to which personal items to bring with you, apart from daily clothing, you should pack pajamas, bathing suit, underwear, sweaters, shoes, and sets of warm socks as well as something to wear for socializing opportunities. Other personal items you want to make sure to have with you include a pair of glasses, bathroom supplies like a toothbrush and shampoo, medication and any important paperwork you need with you. If there's sufficient room; having a few photographs and mementos can be a great way to make your space feel more like home.
Entertainment
Entertainment and keeping yourself busy is important. So make sure that you have planned for things you enjoy doing and have brought what you need. For example, a TV, radio or music system are great ways to pass the time, you can watch interesting shows and listen to the news while resting. If you are more of a high tech person, you can bring your laptop or PC as well. Other items for entertainment that you can pack include a phone, books, or hobby and sport supplies. If you are moving to a facility with workshop areas a toolkit could also come in handy.
Personal Décor and Decorations
Personal décor and familiar items can play a major part in making your new space feel like home. Make sure you pack things like paintings, photos, art, picture frames, lamps, a clock, and plants. Ask ahead if curtains or blinds are provided so you know whether to bring them with you.
What About Pets?
For many residents, finding out if the assisted living community allows pets can be very important as well. Not every community has the same rules when it comes to pets, so you want to make sure to ask about their policy beforehand. Some communities even hold 'pet interviews' to determine if the pet is suitable for the facility. Pets like birds and fish are almost always allowed.
What Not to Pack and Leave At Home
While knowing what to bring with you to your new home is essential, being aware of what not to pack can be just as important. There will inevitably be a number of things you won't need or can't bring due to limited space. While it might be tempting to bring these items with you, it's important to think twice before packing and assess if they are better left at home.
Items that can most likely be left behind can include things like clothing such as old robes and items which are unessential or take up a large amount of space such as rarely worn jewelry and handbags, big furniture and rugs. Additionally, having things like large boxes for storage, or multiples of items like old mugs and appliances are unnecessary and can be left at home.
Even if you don't take everything you need the first time, don't worry. There are people at the community that could help make the adjustment process easier and ensure you have everything you need.
Making sure you have what you need and not overdoing it is an important balance to strike but could make a big difference in being comfortable and feeling at home in your new assisted living community.
How Evergreen Can Make Your Move Easier
If you have any questions about what you might need or what will already be provided for you or a loved, the expert staff at Evergreen Retirement Residence can help.
At Evergreen we strive to be a community that caters to individuals and individual needs. We design care for the personal needs of every individual. You can count on us to help make the transition from home to care as seamless as possible.
Contact us to learn more about how we strive to make all residents comfortable and feel at home.