As seniors age, they may find themselves spending increasingly more time alone. While fostering positive social relationships is one of the most important ways seniors can take care of their health and happiness, time spent alone has its benefits. At Evergreen Retirement Residence, we promote a senior lifestyle that balances both time spent alone and with others in a community setting. Below, we discuss a few of the ways spending time with oneself can be beneficial to retired seniors.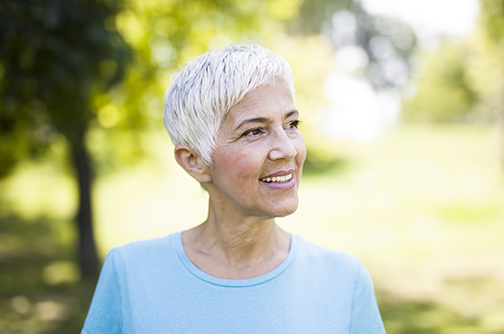 Fosters New Passions
Growing mobility concerns and the lifestyle changes that come with retirement often make it difficult for seniors to pursue the hobbies and passions that once kept them occupied, leading to feelings of aimlessness and boredom. Solitude sparks creativity and productivity, so time alone can encourage seniors to stay busy with solitary activities. When seniors are provided the time and space to pursue their own hobbies, they are better able to find purpose in their shifting lives, which is vital to one's well-being and happiness.
Promotes Independence
Although aging often brings about a growing need for assistance with everyday tasks, feelings of independence and self-directedness are an important part of maintaining one's sense of dignity. Spending time with oneself promotes feelings of agency over one's life during a time of significant change and uncertainty, encouraging seniors to continue doing as much as they can on their own. While seniors in an assisted living setting may need regular assistance, even the slightest sense of independence can strengthen a senior's sense of dignity, and our independent and assisted living community works to promote maximum independence for seniors of all mobility levels.
Allows Time for Reflection
Reflection is a key component of mental health. When seniors are given time to themselves, they are better able to silently reflect on their life's achievements and their future goals, promoting a sense of purpose and direction that becomes increasingly important with age. Solitude also allows for meditation and mindfulness practices, both of which promote feelings of peace and a strengthened connection with oneself, others, and the world around them. Many seniors may find that they hardly had time to truly get to know themselves during the hustle and bustle of life in their younger years, and the solitude provided during retirement offers a perfect opportunity for quiet self-reflection.
Evergreen Retirement Residence
Independent living and assisted living in Burbank, CA
At Evergreen, we understand the importance of senior living that balances individualism and community. We provide all of the resources our residents need to lead a safe and healthy senior lifestyle while promoting a sense of dignity and autonomy that's vital to the health and happiness of all seniors. Our assisted and independent living community in Burbank, California places a strong emphasis on person-centered senior living with a quiet, warm, and welcoming atmosphere that truly feels like home.
If you are exploring independent and assisted senior living communities in Burbank for your loved one, we'd love to meet you. Contact us today to schedule a tour.
225 Evergreen St.
Burbank, CA 91505
Phone: (818) 843-8268
Email: director@evergreenretire.com