When it comes to living a safe, comfortable, and enjoyable retirement, where a senior lives is just as important as how they live. At Evergreen Retirement Residence, we aim to provide individualized care for all of our residents in a warm and welcoming senior living environment that suits the needs of all. Below, we discuss a few of the most essential elements of a comfortable retirement environment and how our model of care meets those standards.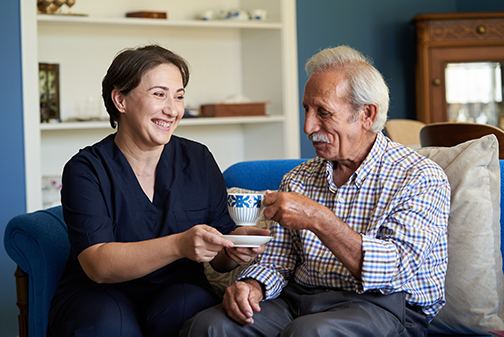 Comfort & Cleanliness
For many seniors, the transition to a retirement community can sound daunting, but it doesn't have to be! The best retirement communities provide all of the comfort, cleanliness, and amenities of home, with the added benefits of friendship, care, and community. A comfortable retirement environment is well-decorated while offering residents the opportunity to add a personal touch to their living area. Residents should also be able to enjoy a quiet atmosphere fostered through mutual respect to live out their retirement in serenity.
Safety
Safety is a key requirement of any living situation, but it becomes even more important during retirement. Aging adults are more likely to experience mobility concerns, making it essential for all retirement communities to implement additional safety features. Above all, a retirement community should be ADA compliant to accommodate seniors with disabilities. Other important safety measures include secure entrances and exits, handrails in the hallways, on-site nursing and security staff, and well-lit rooms and hallways.
Balanced Care
The level of care a retirement community resident receives will depend on whether they live in an assisted living or independent living community. Regardless, a balance between support and independence is essential to empower residents to enjoy the very best quality of life. Assisted living residents should enjoy senior-friendly living spaces designed for comfort and safety, including a well-appointed bath and an emergency call response system. Whether it's assistance with medications, bathing, or getting dressed, the type of assisted living care a resident receives should be completely individualized to their needs and desires. On the other hand, an independent living program should give residents all the freedom, open scheduling, and independence that they want and need, with staff available to provide as much or as little support as needed, from carefully planned meals to housekeeping.
A Sense of Community
One of the greatest benefits of joining a senior living community is the sense of family and community that it provides. The best retirement communities have an engaged, close-knit community of residents who are always available to attend events or enjoy a meal together. Activities like arts and crafts, shopping trips, bingo night, and movie nights help foster a positive family-like environment where residents and staff can connect. Care, understanding, and respect for one another is at the core of every great retirement community.
Evergreen Retirement Residence
Independent living and assisted living in Burbank, CA
At Evergreen, we understand the importance of safe, enriching, and dignified senior living. Our assisted and independent living community in Burbank, California places a strong emphasis on providing the best possible senior living accommodations in a quiet, warm, and welcoming atmosphere that truly feels like home.
If you're exploring independent living and assisted living communities for an older adult in your family, we are a community you absolutely must explore and tour. We invite everyone for a tour around our property and a consultation where we can answer every question you have. If you're in Burbank or the greater Los Angeles area, please get in touch or stop by, and if you're not in the area, please call to get acquainted and request a brochure.
225 Evergreen St.
Burbank, CA 91505
Phone: (818) 843-8268
Email: director@evergreenretire.com