Families have many questions for us
This is understandable, because there are many styles and levels of communities designed for seniors, and we've observed that a common concern for families is that they're placing their loved one in a community and program that is suited to them.
For example, in the case of an older adult who may benefit from some personal assistance like housekeeping and meal preparation, but cognitively is well capable, then we see the family wanting to ensure that their loved one maintains their complete independence. There is substantial concern in these cases about the older adult preserving their lifestyle, their independence, and the ability to carry out their day in the way that suits them. An independent living program provides exactly this.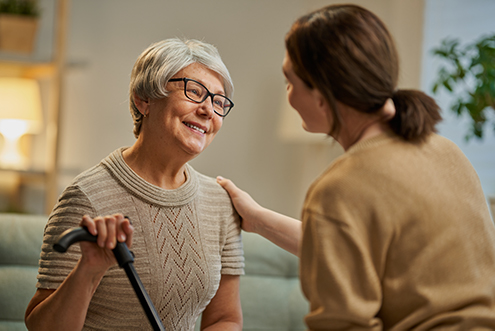 We also see the other side of this equation, in which the family of an older adult understands that they will require substantial assistance, often these older adults will have memory loss of various kinds. In these scenarios, we hear families concerned that their loved one may need care, supervision, and therapy that isn't provided. In these situations, an assisted living program with memory care will ensure that they have the level of care best suited to them.
Evergreen Retirement Residence
We are independent living in Burbank, CA
We are ideally suited to seniors who are seeking an independent living community that feels like home, that is in a quiet residential area, and that provides a lifestyle which is free of stress (we provide amazing meals, easy housekeeping, and other services to keep life simple). The best way to know if we're the best senior living community for your family is to contact us.
We have great pride in our community because we know that we are truly making our residents feel like this place is their home - because it is! They tell us and their families agree. This keeps us moving forward and searching for ways to make this retirement experience even better in any way we can.
If you're exploring independent living and assisted living communities for an older adult in your family, we are a community you absolutely must explore and tour. We invite everyone for a tour around our property and a consultation where we can answer every question you have. If you're in Burbank or the greater Los Angeles area, please get in touch or stop by, and if you're not in the area, please call to get acquainted and request a brochure.
225 Evergreen St.
Burbank, CA 91505
Phone: (818) 843-8268
Email: director@evergreenretire.com